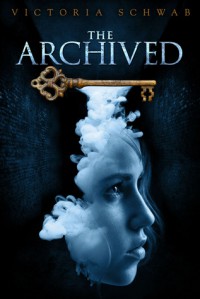 Hello everyone and how's it going? I'm doing pretty good and I'm excited to be bringing you a book review. YAS!!! It's been awhile since I've done one of these, I mean it was hard for me to read anything, until this one book came into my life and hugged me hard and I was happy and excited!!! As you can tell by the title I am reviewing "The Archived" by Victoria Schwab!
Characters:
Mackenize Bishop- Main
Antony Bishop (Da to her)- Mac's Grandfather (memoies)
Wesley Aryer- New friend and fellow Keeper
Roland- Librarian of the Archived and Mac's guide
Owen- A History
The Archive, an otherworldly library, contains the bodies of everyone who has ever died. But when the Archive is compromised from within, sixteen-year-old Mackenzie Bishop must use her skills as a Keeper to identify the traitor and prevent violent Histories from escaping into our world! (blurb proved by google books, because I can't get to the point fast enough lol)
This book was so well written and it was awesome. I like that fact that Victoria wrote her characters as humans with feelings and not whiny! Mac relies on what she learns from her grandfather and thinks back to when he first introduced her to the Archived. He believed in her. There wasn't a dull moment of reading this book, it had me going each time. Mackenize is pretty awesome and can totally be independent, but stubborn and when push comes to shove, she does ask for help. Wesley is funny as hell and charming in his own way. He's smart and he knows it along side a little vain. Roland is so calm and awesome, he knows when the boundaries are being pushed and he sticks to his guns, and also is a sweetheart. Owen was pretty likable and charming in his own way, but I had a gut feeling about him. This story had me thinking almost til the end of who caused a mess for the librarians in the Archived and why memories are lost in histories.
I would totally recommend this to anyone into YA and would enjoy a little teen rebellion. So, that's it from me! I will be back on Wed with another post and until then. I hope you all have a great day/night where ever you are and I'll write to you all on Wed!
TOODLES!!!